Make a Deposit of £10 using SMS and get £20 to play with at MobileWins SMS Casino.
Here at MobileWins SMS Casino you can deposit and play using your Phone and SMS function.
Deposit now or read on!
---
MobileWins is one of the best SMS Casinos worldwide! Start playing our games by depositing using SMS. Below, our tutorial on SMS Casino deposits can be found.
An SMS Casino such as MobileWins is also known as:
# Mobile Casino Games Pay by Text
# Phone Casino Through SMS
# SMS Deposit Casino
---
SMS Casino 100% Deposit Match Bonus
Use our easy SMS depositing system and play all your favourite games instantly. When you use SMS as your deposit method, a 100% welcome bonus awaits! For example; deposit £10 using SMS and you double it automatically to £20! You can now play more and longer at our SMS Casino!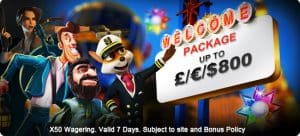 ---
SMS Deposits Online
All our games are available to SMS depositors and we have over 300 of them! Play any and all on the SMS Casino on mobile and desktop.
---
SMS Casino Deposit – How To Guide
Read the following steps to deposit via SMS and start playing in the SMS Casino!
1. Join Us
Visit MobileWins.co.uk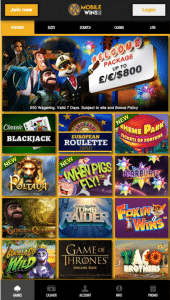 Find the "Join Now" button on the homepage and click it!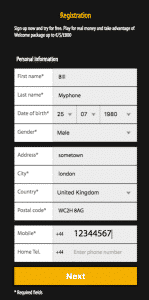 Fill in the registration form and make sure to enter your mobile phone number correctly. We will use it to send a confirmation message and as your SMS deposit number.
---
2. The Deposit Page
Find and click the "Deposit Now" button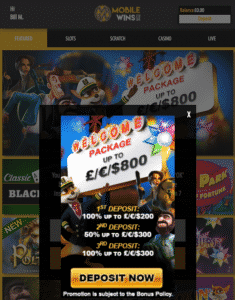 ---
3. Activate Your Account
Simply click OK to activate your account.
You will now receive an email with your details. A reminder for when you forget your username!
---
4. Charge to Mobile – SMS Casino Deposit
Select the "Charge to Mobile" option.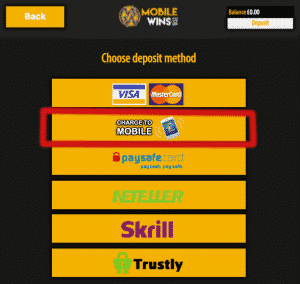 ---
5. SMS Deposit
You are very close! Do the following and you can start playing!
1) Select the £10 amount
2) Enter the 4 Digit Code that you have received as text during sign up.
3) Tick "I acknowledge the above information"
4) Click on the "Submit" button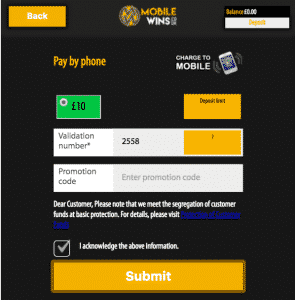 ---
Congratulations!
You just did it! After finishing the deposit you £10 turned into £20! Enjoy all our games and good luck at MobileWins SMS Casino!