Quake 4 betting – Your Guide for eSports
The world of eSports is an exciting but extremely varied place. Many of the most lucrative competitive gaming tournaments revolve around online battle arena or strategy-type games such as League of Legends and Dota 2, but that does not mean that is all there is to eSports. Whether you love sports simulators such as FIFA or arcade fighting games like Street Fighter, you are sure to find the perfect game for you.
First person shooters have a particularly important place in this world too and at Mobile Wins we are specifically big fans of
the Quake series. In this article, we are going to take a look at the key elements you need to consider when looking to gamble on Quake tournaments, with a specific examination of Quake 4 betting in
particular.
Hopefully, these hints and tips will be just what you need to know as you prepare to make your first bet.
As popular as ever
Quake 4 was published by Activision and developed by Raven Software, with the title first being launched worldwide in 2005. However, 12 years on from its release the game – which was originally made available for PC, Linux, OS X and Xbox 360 – remains as popular as ever.
The game's single player mode took up the storyline which began in Quake II, but it can be argued that its multiplayer modes are where the real action is at with options including Deathmatch, Team Deathmatch, Capture the Flag and others.
It may not be the biggest eSports game in the world, but there is plenty of fun to be had in not only playing the game but watching how the best players across the globe handle the thrills and spills of the action too.
An eSports classic
So you know about the game, but what about its legacy within the world of eSports? Well, the Quake series has a long and rich history as part of competitive gaming, with many of the entries in the
franchise being used in such a manner.
In fact, the use of the titles in tournaments can be traced right back to
1996, with a competition being held as part of the first-ever QuakeCon. Organised by ZeniMax Media and now an annual event, the convention attracts thousands of people every year and is always held in Dallas, Texas.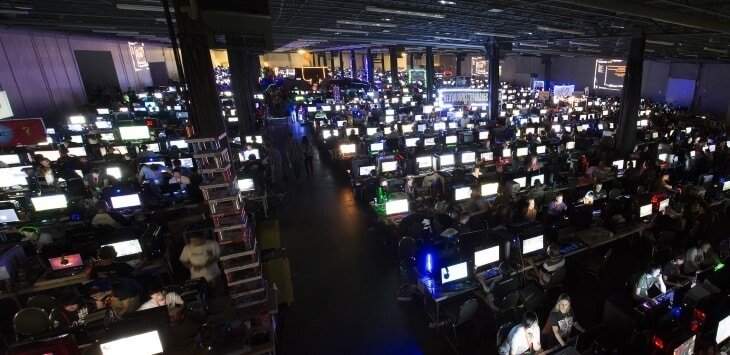 A winning format
A key thing to consider when looking to get involved in Quake 4 betting or gambling related to any of the titles in the series is to know how competitions tend to work. Looking back at last year's QuakeCon, there were in fact two tournaments at the event.
The Quakeworld 2-on-2 TDM Open saw two-player teams do battle in a double elimination bracket and a best-of-three games format. Secondly, a Duel Masters Championship based on Quake Live was also held. This was saw professionals and skilled amateurs come together in 1v1 duels with a double elimination bracket and a best-of-five format. Following this, the top two went head-to-head in a single-elimination, best-of-five games decider.
Get ahead with Quake 4 betting
As with betting in any sport, a little bit of research can go a long way in helping you to figure out which teams and players to back in major Quake events. A key starting point is to do your homework by tuning into tournaments on Twitch and other streaming services to see which sides and competitors are making their mark at the moment.
This is when it can be useful to familiarise yourself with the names to look out for in the Quake world. Shane "Rapha" Hendrixson is part of Team Liquid and has dominated the QuakeCon Quake Live Duel tournaments in recent years, winning outright in 2013, 2015 and 2016. Other major players include the Russian competitor Sergey "evil" Orerkhov and Belarus's Alexey "Cypher" Yanushevsky.

Looking purely at Quake 4 for a moment, another name to keep an eye on is Johan Quick. The 33-year-old Swede better known as Toxjq
has had success with Quake III Arena and Quake Live, but he is thought to be the highest earning Quake 4 player ever, scooping more than $140,000 of winnings in tournaments related to the game.
So now you know a few names, take a look at their latest statistics to see where their strengths and weaknesses lie and ultimately how this might impact on upcoming tournaments. Do not just focus on the best known players however, as keeping an open mind will help you spot new talent emerging in the Quake world who could go on to win big in major contests. It is also important to not rule out the prospect of a dark horse coming from nowhere to take the field by storm too.
Another good tactic is to keep tabs on any news related to Quake and
eSports, as you may just spot important information about teams or individual players. For instance, has a player revealed any clashes within his team? It is important to watch this as, like in any sport, issues away from competitions can have an important bearing on how players ultimately perform. Happier players are simply more likely to come up with the goods when called upon.
Develop your Quake 4 2023 betting strategy
While the world of eSports can be hugely unpredictable as it is thrilling, just taking a few steps can make all of the difference when it comes to Quake 4 betting in 2023. Assess every piece of information you can get your hands on and you should be in a strong position when it comes to gambling on the biggest upcoming tournaments.
Here at Mobile Wins, we love a good first person shooter and the Quake series is home to some of the best ever made. Now you've read our guide, head over to our specialist pages on Quake 4 betting to discover the latest odds and start off your journey towards developing the perfect winning strategy.
Loved this guide? Register to the Esportsbook Now!