Deposit €10 and get €20 to play with at our Ideal Casino.
Here at MobileWins Casino you can deposit and play using Ideal! Simply pick your bank and make a deposit.
Read On to Find Out How!
---
MobileWins is one of the TOP Ideal Casinos! Play our games and deposit using Ideal. Follow our "Ideal Casino" deposit tutorial. An Ideal Casino can also be called:
# Casino Pay by Ideal
# Ideal Casino Deposit
# Play Casino Games with Ideal
# Bank Ideal Casino
---
Ideal Casino – Double Your First Deposit
MobileWins Casino offers you the option to deposit using your own bank with Ideal.  By doing so, you receive double the value of your first deposit as well! Let's say you deposit €10 using your bank and Ideal, we will automatically give you another €10 Bonus, meaning you will have €20 to play with!
---
Ideal Slots Online
Play our wide selection of Mobile Slots in just a few minutes. All slots can be played on mobile, desktop and tablet. Read more about Ideal at our payments page.
---
Your First Ideal Casino Deposit
It is super easy to deposit using Ideal. Follow our easy guide below;
Step 1: Join the Fun
Go to our Lobby and Register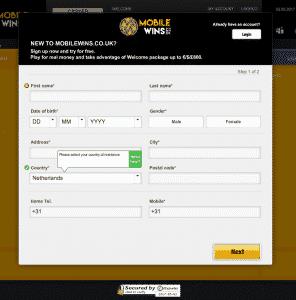 When registering make sure to enter your correct email address and mobile phone number to properly secure your account!
---
Step 2: Deposit Page
---
Step 3: Activate Account
Click OK to activate your account
You will receive an email with your account details.
---
Step 4: Ideal Deposit
Choose Ideal as your deposit option, on either your phone or desktop, and follow the Ideal steps as usual.
---
That's It!
After your successful Ideal deposit, you can now go and enjoy all our games. Your 100% deposit bonus will be automatically credited to your account. Enjoy double the fun!
Enjoy double the fun and good luck!