There's a 70% chance you're reading this on your phone. And we reckon there's a 99% chance you're interested in phone bill sports betting.
Luckily you came to the right place, or more specifically, the right bookmaker. At Mobile Wins Sports we offer players like yourself the possibility to bet on sports using nothing more than your mobile phone.
And the good thing is, we've been doing this for years. Which means we can tell you everything you need to know about phone bill sports betting.
PS. If you were simply looking for a solid bookmaker to start betting and pay via your phone bill, click to register your player account with us and take it from there.

Mobile Wins Sports
2 Things before we dig in…
Phone Bill sports betting works brilliantly, but let's not forget another brilliant thing in our enthusiasm – our welcome offer for bettors:

Get a Free Bet Bonus of £/$/€30

.
We offer multiple well-known and popular payment options. Pay with your phone bill is one of them, but it is one that comes with a small fee. Which is essentially the price you pay for comfort and a seamless betting experience.
If that's not for you, make sure to check out our other mobile payment methods like PayViaPhone.
Can I bet using my Phone Bill?
In a nutshell: Yes. You place a bet and pay for that with your phone bill. Simple as that.
And at the end of the month your phone bill shows what you used for data, texting and calling + sports betting. It literally gets added to your monthly bill. That's all there is to it.
So whenever you pick your favourite sport and event, you decide how much you want to wager and pay via your phone bill.
Say you want to place £10 on Manchester United to make it to the next round in the FA Cup. At the end of the month that £10 is added to your phone bill.
You essentially bet on sports with a deferred payment. No need to cough up cash on the spot, or swipe your bank or credit card. In short: play now, pay later.
Why Players choose Phone Bill Sports Betting
Simply stated: it's lightning fast and comes with zero hassle.
Which means your betting experience is optimal from the very first moment you enter Mobile Wins sportsbook.
You simply open your phone, go to Mobile Wins Casino & Sports, register your account (check our steps below) and claim our sportsbook bonus. All you have to do here is make a minimum deposit of £/€/$ 10 by mobile billing and submit.
(Since we're talking bonuses, next to our sports bonus we also have a generous casino welcome offer: 50 Free Spins on Book of Dead. Just so you know, you can claim both.)
Done? Great, you can now start your betting journey at Mobile Wins Sports.

What betting sites accept Phone Bill?
Mobile Wins Sports does – so the fact that you landed here already means you're golden.
Which leads to the next logical step: how exactly does it work? What do you need to do to be able to start phone bill sports betting? Spoiler alert, it's very easy. Just follow our step-by-step guide.
How can I bet using my Phone Bill at Mobile Wins Sports?
Just follow the steps below and you'll be betting on your favourite sports within minutes. Your phone bill will show your action at the end of the month.
Making a sportsbook deposit by phone bill – here goes.
First things first, you need to make sure you're connected in the right way with your mobile phone to phone bill payment service. Once that's done – register your account with Mobile Wins Casino & Sports and the rest will follow.
Time needed: 4 minutes
It is super easy to make a sportsbook deposit by phone bill. Follow our super simple steps below.
Create account with Phone Betting Service

Sign up with a phone bill sports betting service like Neteller or PayViaPhone.

Activate Connection

Now use that service to connect with your phone bill. Once that's done, you're all set.

Click to Join Mobile Wins Casino & Sports

Click the yellow JOIN NOW button at the top of the page and you'll go to the registration form.


Make sure that you enter your correct mobile phone number during registration. We will send you a confirmation message with a security code for your account which you will be needing later!

Make a Deposit

Click on DEPOSIT and follow the next steps.



Activate Your Account

Just fill in the required information, including the activation number we sent you, to activate your account. Once you have done this you'll receive a confirmation e-mail with your account details. Always handy in case you forget something, like your username.



Claim your bonusses

you did it! Now it is time to claim your bonus(es). To receive Get a Free Bet Bonus of £/$/€30 pick Phone Bill as your primary deposit method and deposit a minimum of £10.

Select Mobile Billing as Payment Method

Pick 'Pay via Phone' as your preferred deposit option and you're almost good to go!



Select Amount & Deposit

Just a few final things to finish your sportsbook deposit by phone bill and you are ready to place your first bet:
1) Select either £10, £20 or £30 or enter another deposit amount to your liking.
2) Enter your mobile number, validation number and the 4 Digit Code you received in a text message when you registered
3) Tick the box 'I acknowledge the above information'
4) Hit that 'Deposit' button!



Place your bet

You did it! Welcome to our Phone Bill Sportsbook, enjoy your Free Bet and good luck!
Phone Bill Betting for All Sports
Mobile Wins Sports offers a wide variety of sports. Football, Tennis, Basketball, Horse Racing, Rugby, Formula 1, Hockey, Badminton, Darts, Motor Sports, you name it.
All the sports you can think of (and probably some more). Definitely all the sports you want to bet on.
Also esports and virtual sports
We even offer a good collection of esports games. An interesting upcoming betting market with a lot of potential for the future! Bet on League of Legends, Dota 2, CS:GO, Starcraft, Warcraft, Rocket League and many more.
Another variant that gained a lot of popularity over the years are virtual sports. Whether it's football, horse racing or car racing, you never have to wait for the right time – virtual sports are always on.
Bet on more than the Big Leagues
At Mobile Wins Sports we don't just focus on the major leagues. If you want to profit from mobile phone bill betting by specializing in a niche, you can!
Who says the most value is to be found in the Champions League? Why not become a pro better with your knowledge of the Turkish Süper Lig or even the Dutch first division?
Use your mobile phone as your command center, accountant, live odds checker, sportsbook and instant payment method!
---
Phone Bill Sports Betting Bonuses
We already mentioned our welcome offers for both sports and casino:
Sports Welcome Bonus:

Get a Free Bet Bonus of £/$/€30

Casino Welcome Bonus:

50 Free Spins on Book of Dead
But if that's all we mention we'd be selling ourselves short.
We love attracting new players with attractive offers, but at Mobile Wins Casino & Sports we understand true value is to be found in players who enjoy coming back to us.
Resulting in a simple rule:
Make sure players truly enjoy themselves every time they play with us.
One way we go about that is by offering you weekly and monthly promotions. Ranging from reload bonuses, to free bets, to cashbacks, to leaderboards, to a full blown Reward Program.
The best part? You have access to those by using your phone bill as payment method.
Is it possible to withdraw winnings with your Phone Bill?
Good question. The short answer? No, unfortunately not.
So right off the bat, if the fact that withdrawals aren't possible is a serious downside for you, then you're probably better off with an alternative method (see below).
The reason it isn't possible is straightforward: it could involve risky amounts of money which is something phone operators obviously don't want to take on.
---
Is Phone Bill Betting legal?
You wouldn't be the first to wonder about this. But rest assured, there's nothing fishy about the legality of phone bill betting.
The simple fact that Mobile Wins Sports offers this is already a tell tale that should bring relief in that regard. We adhere to very strict regulatory and compliance standards, which means we only offer services that are completely safe, tested and legal.
Next to that, at Mobile Wins Sports you're betting via a fully encrypted sportsbook platform. So all your data is completely safe with us, just as the technical setup with the various payment providers.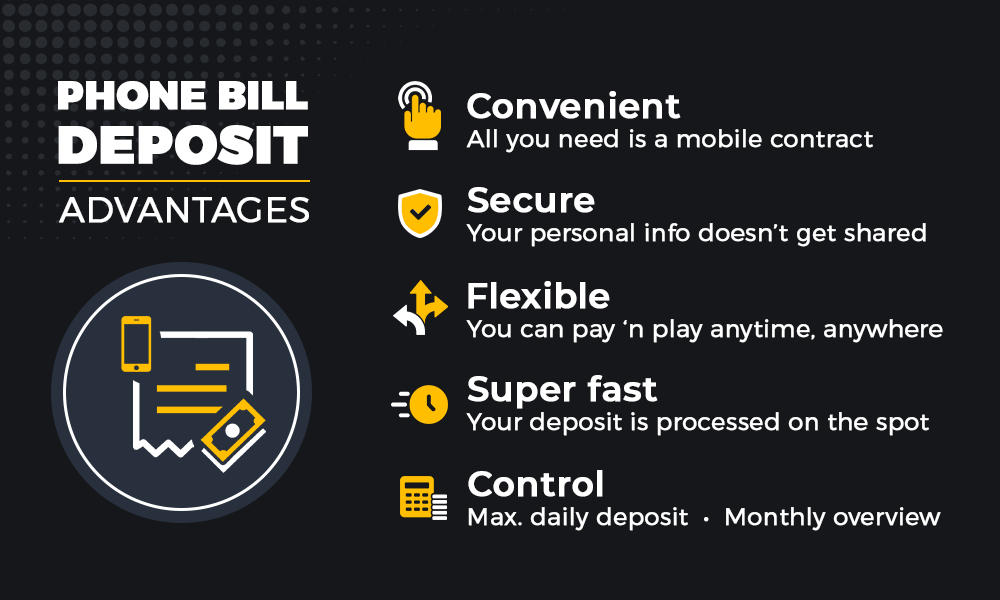 What are the advantages of Phone Bill Sports Betting?
If you made it this far on the page you already understand there are several great upsides to phone bill sports betting. Which is why it's no surprise this payment method has become increasingly popular over the years.
We've listed the biggest advantages for you. And to balance it out, we'll also tell you about some of the disadvantages. We are here to inform you properly, after all.
1. Instant Betting
As a player you're no doubt looking for a quick and streamlined betting experience. In short, pick an event, place your stake and transform it into an actual bet by immediate payment.
Phone Bill Betting is perfect for that – since payments are usually processed very fast.
2. Instant Payment but no Instant Billing
A unique feature that instantly explains why phone bill sports betting is so popular. It allows you to bet instantly, but payment is delayed until the end of the month – whey you pay your phone bill.
3. User Friendly & Fast
Paying via phone bill when betting on sports is super easy and fast.
Add to that you can basically combine two payments (your monthly phone usage and sports wagers) into one, and you can understand why many bettors favour this method of payment.
4. Safe & Secure
You can enjoy the benefits of phone bill sports betting with the knowledge your data is transferred completely safe.
Are there disadvantages to Phone Bill Sports Betting?
Alright, trumpets away for a minute so we can look at the other side of the medal, as they say.
Just as you should be fully aware of terms and conditions when claiming a bonus, the same goes for choosing a payment method.
There are basically two main disadvantages with phone bill sport betting.
1. Fees might be higher compared to other payment alternatives
As we mentioned earlier, phone bill sports betting does come with fees. You pay a little extra for the facilitated service that is provided by a third party (like Neteller or PayViaPhone).
Make sure to check beforehand, that way you can never be disappointed later on.
2. Maximum Deposit Amount is low
Please take into account that you can't make extremely large deposits so if you're looking to go for the big bets, it's probably wise to pick another payment option.
The best alternatives to Phone Bill Sports Betting
Now that you have a clear understanding of the pros and cons of paying and betting via your phone bill, it might be that you feel more comfortable using a different payment method.
Luckily, we have loads of 'em for you so take your pick: Visa, PayPal, Apple Pay, MuchBetter, Paysafecard, ecoPayz, AstroPay and more – also depending on your location.
FREQUENTLY
ASKED QUESTIONS
Can you play Casino and pay via mobile phone bill?

Could it be any easier? Just play and your deposits will be written to your bank account together with your phone bill. Casino pay via mobile phone bill is the preferred banking method to many, but it is also one that isn't free like most (mobile) payment methods. So be sure to choose wisely and with your wallet in consideration when choosing a casino processing method.

How does casino by Phone Bill work?

Like buying apps in the Play Store, you can use your phone bill to deposit on Mobile Wins. This is a very easy and convenient way to make your payments. There are some notable drawbacks though: there is a fee in depositing, you can't withdraw using your phone bill and it is hard to keep track of your budget as you pay by the end of the month. So pay via Phone Bill casino is great, but use it responsibly!

Do I have to pay transaction fees when depositing with your Phone Bill on Mobile Wins Casino?

At Mobile Wins Casino we charge a small fee of 15% when depositing using a Phone Bill Subscription! Note that your provider can charge you for their services or that there may be an interest rate on purchased items.

Is it safe to deposit and withdraw with a Phone Bill on Mobile Wins Online Casino?

Yes. By using your phone bill, you log in with your provider on your own phone. You are also protected by the SSL-Encryption on our website. This makes depositing money with your phone bill on Mobile Wins Online Casino completely safe. It is not possible to withdraw money using your phone subscription.

How long will it take before a payment is processed with the Phone Bill on Mobile Wins?

Transactions with a Phone Bill on Mobile Wins are processed immediately. You will receive your welcome bonus simultaneously when you make your first payment and are ready to play all of our games. Note that you will have to approve your purchases with your provider before they go final.

Can you pay in terms when using Phone Bill for online casino deposits?

Since there is a fee on depositing with a phone bill, we advise against making multiple payments. Due to the payment being part of your phone subscription, you will technically pay in terms. But this will be considered debt and we thus advise against making overuse of this payment method. Luckily, we offer many great alternatives!

I own a prepaid phone but still want to play casino games. What alternatives do I have?

We offer players multiple financial services to choose from when playing on Mobile Wins Online Casino. These vary from credit cards to e-wallets and mobile payment solutions. Take a look at our complete list of payment and withdrawal options and their specific terms.

Pay using phone credit Slots?

One way to play on a Pay via phone UK casino is by using phone credit slots. So how do these work? You can charge your account balance using your mobile phone bill. Though keep in mind that you pay a 15% transaction fee and you are essentially using your mobile phone as a credit card. You might want to consider different solutions such as Pay Via Phone.

How to Pay with your phone casino?

Pay with your phone casino is one of the most heard requests. This comprises the different methods mentioned above. The great thing about Mobile Wins is that we are not only a casino but also a sportsbook. Meaning we don't have just one, but two welcome bonuses! Sign up and deposit and receive 50 Free Spins on Book of Dead on your pay with your phone casino deposit and Get a Free Bet Bonus of £/$/€30 when you make your first sportsbook deposit.

Can you Pay by mobile casino not boku?

You feel like pay by mobile casino, but not boku? In that case you are in luck! With Mobile Wins you are offered multiple mobile payment processing methods. All of them are free of charge and instantly processed, with the exception of mobile billing. Pay by mobile casino not boku is a frequently heard request and that is why we have solutions such as Pay Via Phone. Regardless of the method used, you will always be entitled on your welcome bonus when you make your first deposit.

Can you Pay by Phone Casino UK?

One of the most searched ways to use your phone as a mobile payment system is via Pay by Phone, casino UK style. Pay by phone is not to be confused with Pay via phone, which we will discuss in another article. Pay by phone is often searched after by UK casino players as it is experienced as very user friendly when it comes to paying car parking. It is however not ideal for paying at a casino. We'll explain why. Pay by Phone is an app essentially designed for another purpose, namely parking. The compliance for the gambling industry is simply different than for that of parking. Pay Via Phone is considered a good alternative that works in the same. They are apps that you can instantly deposit money into to purchase services such as parking, or in the case of Pay Via Phone, make deposits and withdrawals in the gambling industry. Using such a payment method on Mobile Wins for the first time will even net you 50 Free Spins on Book of Dead bonus!

What is a good Pay by phone casino UK?

We like to think of ourselves as a good Pay by phone casino from the UK. We are established in this fine country and are subjective under the regulations of the UK Gambling Commission. You can always rely on all of our games being available for all devices. Including mobile phones and tablets. All you have to do is to make sure you have a good connection, a full battery and an active account!

Do Mobile Slots Pay By Phone Bill work?

Another famous way to play casino by phone is to pay by phone bill. You essentially use your phone bill as a credit card. This is also why there is a small fee on playing mobile slots pay by phone bill. Unlike the apps and e-wallets, pay by phone bill is not always instantly processed. Although this delay is negligible. The big advantage of mobile slots pay by phone bill is that you already have your phone bill anyway! We do advise you to make sure you keep a good eye on your budget. You can really lose track of your spendings if you receive the bill at the end of the month instead of immediately. Pay by phone bill is an amazing option for those looking to pay a casino with a phone, but it is a risky method as well. Please always play safe and only with money you can miss!

What about Mobile Casino Pay with Phone Credit?

Some phone users have no subscription but phone credit. They wonder if they can go to a mobile casino and pay with phone credit. The answer to this question is unfortunately no. There are luckily many alternatives as the ones that we discussed above. There are also other ways than phone credit or phone bill to pay online. You can choose alternatives like Paypal, or e-wallets like Skrill or Neteller. It might take a couple of minutes to create an account and verify your identity, but once you're done this is as easy as using phone credit to pay for your mobile casino experience. Find more information on our payment page and do also check our promotion page! You will find (among others) our welcome bonus of 50 Free Spins on Book of Dead on your first deposit. This is just our casino welcome bonus! We also have a Get a Free Bet Bonus of £/$/€30 waiting for you if you decide to play on our sportsbook!

Is there a Casino Pay by Mobile conclusion?

To conclude this article on pay by mobile casino options: there are surely possibilities to pay by phone using an app, your phone bill or an e-wallet. There are however limitations such as pay by phone credit. There is also the danger of pay casino by mobile without having a good overview on your budget. As with everything, do your research and play with moderation. Visiting and reading this page is a good first step! We advise you to ask our support what they think suits your situation the best.
Other Questions?
CONTACT US
.