Halo Betting: Your Guide for eSports
As the rise of eSports continues, the amount and variety of games attracting professional players continue to grow. Massively popular games such as Call of Duty and Counter-Strike: Global Offensive have long been eSports mainstays. However, more games are entering the eSports fray, as developers, publishers, and sponsors recognize the demand of the industry. Read all about Halo as an eSport here and find out why Halo gaming and Halo betting are well worth your attention.
What is Halo? Why is it popular in eSports?
Halo is a sci-fi first person shooter first released on Microsoft's Xbox family of consoles in 2001. The game sees a collection of technologically advanced supersoldiers battle an invading alien race known as the Covenant. The game is celebrated for its captivating gameplay, with its multiplayer mode being hugely popular.
Halo competitions have been taking part for many years, but the game burst onto the eSports scene in a major way in 2014. 2014 saw the Halo Championship Series (HCS) being found. HCS is a professional, officially recognized Halo league.
Following the success of HCS, the Halo World Championship was launched in 2016. This received heavy backing from Microsoft and Major League Gaming. The event gathered a lot of attention, in part due to the massive prize pool that was on offer. The overall prize pot for 2016 tournament clocked in at $2.5 million – the biggest prize pool ever for a console game.
The intention was clear: Microsoft wanted Halo to be a popular eSports game. That mission has definitely been achieved. The Halo franchise is one of the most popular gaming series on the planet. It has been one of the standout successes on Microsoft's Xbox family of consoles. Considering all this, it was a no-brainer for us to offer the latest Halo betting odds and offers here at Mobile Wins.
Below, we'll run through some of the typical bets that we carry for Halo, as well as the events that you can wager on.
Halo Betting at Mobile Wins: Wager on the Master Chief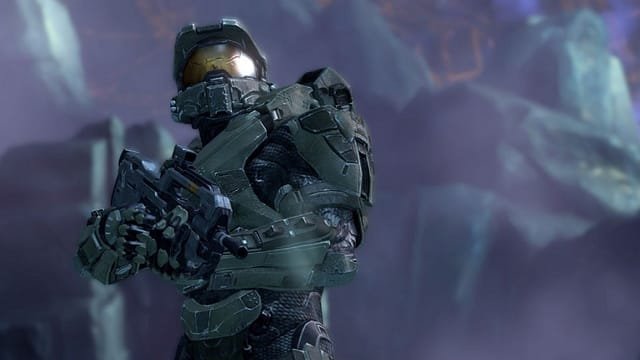 "Halo 4 in game screenshot" (CC BY 2.0) by Corrinne.Yu
If you've played Halo in the past, you will already be well aware of some of its famed game modes. If you're completely new to the game, don't worry – we've got you covered. The latest version of the game is 2015's Halo 5: Guardians. This is the game that most future eSports activity looks to be set around. On top of this, Halo 2 has also been played at the professional level, recently being the favored game of the Halo Championship Series.
Here's a quick recap of the most popular game modes within Halo eSports.
Team Slayer: Slayer is one of Halo's most iconic game modes (due to, in part, to the instantly recognizable announcer sound effect). This mode is an all-out team deathmatch. The main goal is to kill as many opposing players as possible.
SWAT: This is essentially a Team Slayer match, but with some added tactical bite. Headshots and melee attacks do super damage, killing instantly. Meanwhile, all other damage, such as limb or torso damage, is massively limited. Getting up close and personal, or aiming for the head, is the way to win in this game mode.
Capture the Flag: In this mode, two teams compete in a battle to steal each other's flag. For a point to be scored, a flag has to be stolen and taken back to the attacker's base. Points cannot be scored if a team's own flag has been captured and isn't present at their base.
Strongholds: This is a classic team domination style game. There are three control points scattered around a map. Points are scored when a team commands multiple control points, with maximum points being scored for controlling all three.
These are the most common Halo game modes within eSports circuits. At the 2017 edition of the Halo World Championship, Capture the Flag, Strongholds, and Slayer were all played. Outright winners at these game modes are just a few of the Halo betting markets on offer at Mobile Wins
Halo Betting at Mobile Wins
For Halo betting purposes, the game modes mentioned above are the ones that you will want to pay the closest attention to. From time to time, depending on the event, you'll find more Halo betting options for different game modes. The types of bet offered will differ from event to event, but typically outright betting on overall match and tournament winners are most common.
Like with all bets, odds change from tournament to tournament and game to game. As more information is made available on how games and tournaments are progressing, odds may change. If you like the set of odds being advertised, be sure to stake on them before it's too late. Use Mobile Wins to stay up to date with all Halo odds, guaranteeing you get the best price possible for your eSports betting.
Bet on eSports and be Closer to the Action
eSports betting offers a fun, adrenaline-fuelled way for you to get involved with your favorite eSports titles and teams. At Mobile Wins, we have a wide selection of Halo betting markets for you to enjoy. We offer bets on popular Halo events, including the Halo Championship Series and the Halo World Championship. Be sure to check back regularly for information and odds on all the latest Halo matches and competitions.
Not sure which Halo eSports team to bet on? Here are some of the most well-known and successful teams:
OpTic Gaming (Halo World Championship 2017 winner)
Team EnVyUs (Halo World Championship 2017 runner up)
Counter Logic (Halo World Championship 2016 winner, HCS Season 1 runner up)
Evil Geniuses (HCS Season 1 winner)
Team Allegiance (Halo World Championship 2016 runner-up)

Why choose Mobile Wins?
Wondering why you should bet with us? We're a fully licensed eSportsbook – just like a traditional sportsbook, but we specialize in eSports. We offer an experience that is 100% tailored to eSports fans and gamers, whether you're a total newbie or a seasoned veteran. We have a great range of eSports to bet on, including Halo, DOTA 2, FIFA, and Hearthstone.
At Mobile Wins, you'll get flexible deposit options, such as bank transfer, card deposits and Bitcoin. We're also offering an exclusive welcome offer of bet $5, get $10 – an additional 100% of the deposit. So sign up and bet with Mobile Wins today!
Loved this guide? Register to the Esportsbook Now!