Esports Teams – Pick Your Favourite
You will Find all Team Betting Guides below. Visit us regularly for new and additional Betting Guides and don't forget to check out our Game Guides and news page as well.
Team Betting Guides:
You are probably already aware of this, seeing as though you are on our website, but it is fair to say that Esports are now massive. With revenues expected to reach an enormous $1.5 billion by 2020 as investment in the industry continues to grow grows, the world of competitive gaming that we love so much is on the rise and set to only get bigger. Thousands of skilled Esports professionals compete in tournaments and competitions every year, and the top ones join forces into Esports teams. Not unlike traditional sports, these teams train with coaches, observe strict schedules and study strategy.
As with any major sport, however, this growth in the number of games played and prizes awarded, the teams out there and the top players emerging every year means that Esports can be quite a difficult area for people who are new to the concept to get their heads around.
Well worry no more, as here at Mobile Wins we've got together a guide on how to go about looking at Esports teams and choosing who to support, follow and bet on.
Why we love sport
Seen as though you are interested in betting, you may have already decided that the best approach is simply to not have an allegiance. After all, this would mean you could then stay neutral and avoid any emotional outbursts or affection for teams impacting on the decisions you make. That's all well and good if that is your style, but we feel that supporting a team or a player is a key part of why we all love sports. Following a favourite is about going on a journey with them, supporting someone through the best and worst of times in the ultimate hope that they will ultimately prove victorious.
So, just where do you begin when it comes to finding your favourite of the many Esports teams?
Again, like in any sport, it is vital to try and determine what you want to get out of it. Esports is already a vast area and is evolving every year, so you need to consider what games you may want to follow as this could give you a clue as to the teams which are best for you.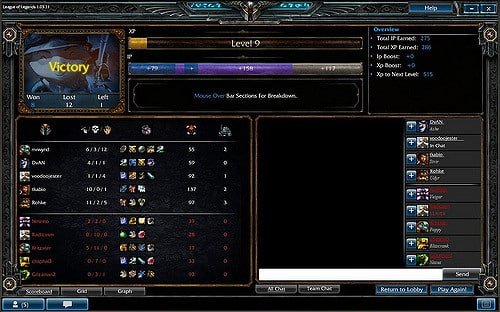 "League of Legends" (CC BY 2.0) by mrwynd
As you can see from the games we offer bets on, titles such as Dota 2, Counter-Strike: Global Offensive and League of Legends are undoubtedly the heavy hitters in the Esports world, with professional gamers competing for multimillion dollar prize pots at tournaments based on these games.
The likes of Call of Duty, Rocket League, StarCraft and even Super Smash Bros Melee are also popular, so do you have a particular love of one of these which might inspire your decision?
The biggest Esports teams
You then may wish to look at the biggest Esports teams in those respective areas to get a feel for what they are like. For example, China-based Wings Gaming are thought to be among the highest earning Esports teams and are huge in the Dota 2 arena specifically. Alternatively, Esports teams like Fnatic play titles such as Dota 2, StarCraft II, Warcraft III, League of Legends and many more.
We think this point is something to bear in mind actually: it is increasingly common for teams to have interests in more than one game. This might be something which is attractive to you, in the sense that it could introduce you to new games and, ultimately, new competitions.
Watch how Esports teams perform in those competitions too. We also all love an underdog, so did a specific team come from nowhere to overcome huge odds or mount the comeback of all comebacks to win a crucial match?
While we can develop affections for a team simply by watching them, getting to know the players can also inform our decisions too. Again, Esports is no different to other sports in that it generates column inches, social media buzz and all kinds of YouTube coverage. You may find yourself rooting for a specific player after watching how he or she has carried themselves in an interview or reacted to something in a YouTube video. You may even discover that a specific gamer is from your neck of the woods, so what can be better than supporting a local hero?
Team or player
We should warn you, though, that certain players in Esports teams could well move to another team at the end of a season. For example, most members of Counter-Strike: Global Offensive team Luminosity moved to SK Gaming in 2016. This may mean you find your loyalties divided if you do not consider what comes first – your love of a player or the overall team. Of course, fans of other sports would always say the team comes first and the loss of a key player is just one of those things that you have to endure as a supporter. But it's up to you really.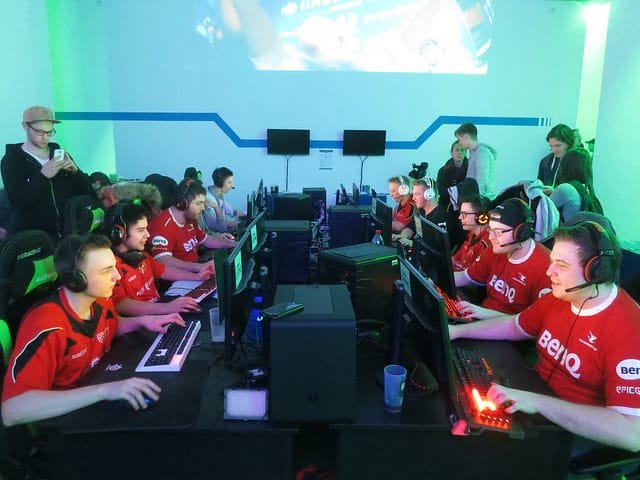 "GeForce GTX AllStar Tournament" (CC BY 2.0) by illustir
So there's clearly a huge amount of things to consider, but it is worth bearing in mind that your decision to follow an Esports could soon be determined by external factors.
With many sports organisations now getting into the Esports world, some people may start to take their love of a certain team into competitive gaming. For example, Paris St Germain now operates an Esports team which specialises in League of Legends, so fans of the French footballing giants might just decide to stick with that allegiance. Similarly, Manchester City are also getting into this arena and the NBA is even launching an official gaming league for its NBA2K series of games with Take-Two Interactive. Will you find yourself cheering on the Cleveland Cavaliers in both the real and virtual world?
Picking the right Esports teams
Ultimately, as with any sport, you'll no doubt know which Esports teams you want to support when something clicks and just feels right. It may not mean supporting the best players or even following a team that wins a lot, there will simply be something that you identify with which will inspire you to make a choice.
It might be a bit of personality or a flash of brilliance during a match which makes all of the difference. Then when success hits it will prove pretty sweet, as you'll know you've been with a team through the good times and bad. Such emotions are a key part of any sport and are another reason we and why millions of people across the globe are drawn to Esports.
Take a look across our website, read our articles and find out more about which eSport – and team – is perfect for you. When you've chosen, remember that Mobile Wins offers a bet 5 get 10 offer for new players, so it's the perfect place to bet on your newly chosen Esports teams.