esports Games – What Can I Play and Bet on?
You will Find all Game Betting Guides below. Visit us regularly for new and additional Betting Guides and don't forget to check out our Game Odds and news page as well.
Esports is the fastest growing sector of the betting industry and we love it because it's brought along a whole new way to follow video games and esports. While some traditional sports punters can be suspicious of anything new, some really understand the excitement of gaming. We simply love esports so much that we created Mobile Wins, a site where you can bet exclusively on the biggest esports games and competitions.
Let's be honest: there are many interested in betting on esports, and their number is constantly growing. But one reason that some traditionalists hold back is that they are unsure about which esports games and which markets they can bet on.
If you're one of them, don't worry. Once you read our guide, you'll feel confident on which esports games to bet on and you'll have learned some of the best tips to do so here at Mobile Wins.
Win or lose
The good news when it comes to betting on esports games is that the process is very simple. It's not an area that provides too much in the way of side markets and there is no such thing as a drawn game, so as a basic entry level to esports betting, all you need to do is decide which of the teams involved is more likely to win.
As with all sports, studying recent results and head-to-head stats will help give you a better idea of how the match will finish up. Shocks can be rare and that's another reason why the straight result is popular – but if you like more complicated bets, there are options for that too
esports Games Covered
League of Legends is arguably one of the top eSports games we offer bets for, with massive tournaments across the world. This fantasy game features a central battle arena where players compete for domination, using different types of characters, weapons and spells.
Multiplayer battle games are ideal for tournament organizers and bookies alike. More esports games that often appear on betting slips include military sci-fi strategy title Starcraft II, battle arena DotA, first-person shooter Counter-Strike, strategy card game Hearthstone and more.
Overall, there is a choice of betting on esports and the markets that are available really are very simple to understand. If you've even got a passing interest in video gaming, look into esports and esports games and you will wonder where it's been all your life.
Handicapping
Most bookies let you bet using the handicap system. If you're a traditional sports punter then you may have seen this used in football where one team gets an imaginary start of one goal, two goals or possibly more.
With esports, the same principle applies and with this type of handicap, you're giving the weaker opponent a head start in terms of points. By doing this, you increase the price for the stronger side and you're getting more value as a result.
Other options in esports games betting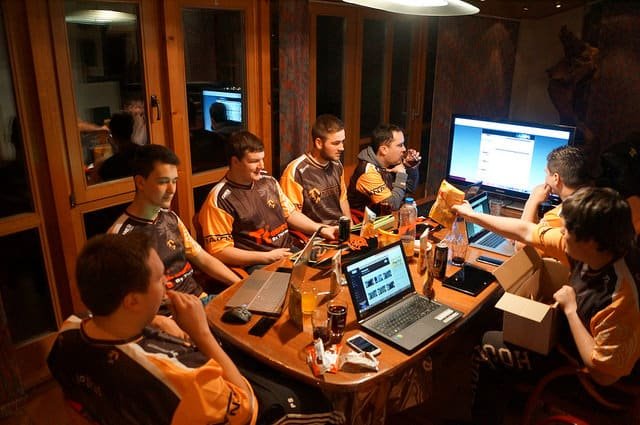 "Workshop eavening" (CC BY-ND 2.0) by Vinationeu
For each esports tournament taking place then we will allow you to bet on the outright winner before a battle begins. Long term bets such as these come out in advance of each tournament and the earlier you bet, the higher the odds are likely to be.
Other side bets are more limited but as a bookie that specializes in esports we will give you some additional options.
Total Points is a market that is common in many US sports such as basketball and NFL and it's one that can naturally be carried across into the world of esports games.
Winning margin is another market that can easily be transferred in order to attract more interest among the betting community. If you are interested in markets beyond the straight result then the key lies in finding the right bookmaker. Some of the traditional outlets may publish esports markets but newer bookies such as ourselves, who have only come on board in the digital age, are more open to a wider set of bets.
We are a dedicated esports bookmaker for a reason: we love gaming. Unlike some traditional sports books which may add an esports market or two once in a while, we know gaming and study gaming, so we can offer you more competitions, more esports games to bet on and more types of bets. Following this theme of variety, we'll also offer you many different ways to deposit, including Bitcoin and traditional options like Mastercard. They all come with our generous bet 5 get 10 offer.
Join Mobile Wins today and see what a difference a dedicated esports games bookmaker does.
2023 Update: Future esports games
We've written this esports guide a few years ago (back in 2017). Since then, the world has changed a lot. And the more things change, the more they stay the same. More variances of Dota style games pop up, as well as more variances of shooters and last man standing games. Fortnite has momentum, but as we know this usually doesn't last too long in the world of esports. We are excited to see what future innovation bring us entirely new games. Rocket League was actually an unforeseen success and though it never became as big as let's say, CS:GO, we still very much appreciate these kind of new impulses that bring the esports in general to an higher plateau.
Loved this Mobile Wins esports game guide? Join Now!