JOIN US NOW AND ENJOY OUR
Movie News, Games & Promotions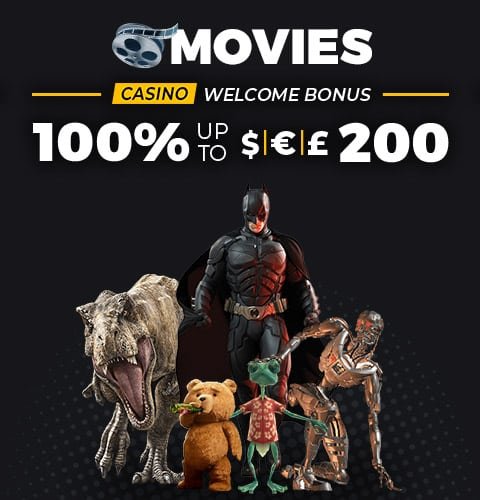 New Players Only. Wagering occurs from real balance first. 50X wagering the bonus. Contribution may vary per game. Available on selected games only. The wagering requirement is calculated on bonus bets only. Bonus valid 30 Days from receipt. Max conversion: 3 times the bonus amount. Withdrawal requests void all active/pending bonuses. Excluded Skrill and Neteller deposits.
Full Terms apply
Casinos and film together? Definitely yes! The two are a perfect match that intertwine more than once. It works well both on the silver screen and in the Casino itself. Where, as a player, you can step into your favourite movie. Blockbusters, 80s and 90s icons, superheroes and even your favourite movie stars. You can find them all in online casinos offering popular themed video slots.
As die-hard fans of both casinos and movies, we like to take you through one of the most successful crossovers ever. That's why we have mapped out the best movies, clips, casinos, cinemas and movie slots for you.
The best Casino films
Casino films are inextricably linked to casinos. Despite the fact that some of the greatest ones are now relatively old, the genre is still rising in popularity. These exciting and intriguing films continuously keep you on the edge of your seat. When a plot unravels you get that feeling… "I can do this too". And that's exactly why they are so super good. These are the best Casino films for real gamblers.
Casino (1995)
A must-see classic starring Robert de Niro, Joe Pesci and Sharon Stone. The film is about Sam 'ace' Rothstein -a great gambler- and childhood friend Nicky Santoro. Sam is sent to Las Vegas by some mob bosses. Where Nicky tries to build a serious life. While Sam only gets into deeper trouble as he tries to run the casino.
Ocean's 11 (2001)
Are you in or are you out? A great heist film. With an even more awesome cast: George Clooney, Brad Pitt, Matt Damon, Julia Roberts, Don Cheadle and 'many more.'
In the film, we follow Danny Ocean. Danny, ambitious that he is, wants to rob three Las Vegas casinos right away when he gets out. To do so, he assembles a team of peculiar professionals. A recipe for success… or is it? We won't say anything else, you just have to see it.
Rain Man (1988)
Another one for the list of 'best films ever.' Rain man won no less than four Oscars. And with a great director like Barry Levinson, we think that makes sense.
Charlie Babbit (Tom Cruise) finds out after the death of his father that 3 Million has been left to Raymond (Dustin Hoffman), something Charlie cannot really appreciate. Charlie kidnaps his forgotten autistic brother to get his father's money back. They find out that Raymond can count cards fantastically. With that power, they go into Las Vegas together.
Rounders (1998)
Another one of those films we like to see in other 'Top' lists.
Mike (Matt Damon) is an ex-gambling addict. He quits poker and goes to law school. He tries to build a new life for his girlfriend. When his best friend Lester 'Worm' (Edward Norton) gets out of jail, he almost immediately pulls Mike into the shit with him. To save 'Worm' and himself, Mike has to win his biggest poker game ever. A real Casino movie mustsee.
Casino Royale (2006)
Daniel Craig's first 'Bond' film was an instant success. Not only did Craig's own career shoot up like a rocket, it was also the most successful series of Bond films ever. In this film too, the casino is the setting for an all-important game at the poker table. Now we have to give a warning though, the final poker scene is not the most realistic poker scene óever. But it does give that gut feeling you get during a real poker game. And because film is about emotion, we count it right.
In this film, James Bond (Craig) has to beat Le Chiffre (Mads Mikkelsen) in a poker game. With the requisite James Bond tricks, charm and ultimate sports car, of course.
Eat, Stay & Play at Casino Hotels
Watched all the Casino movies and can't get enough? In the Netherlands, you often see a Cinema in the same building with a Casino as its neighbour. Which is of course perfect for the Casino goer who is a film lover. First catch a film and then(ast) gamble in the Casino. Can it get any better than that? Sure. Hotels with both a cinema and a casino. These often offer unique experiences with overnight stay, movie and/or casino. "Eat, Stay & Play" Enjoy snacks, drinks and the best table games in economical packages.
Prefer to experience movie magic in the comfort of your own home? Then visit the Online Live Casino and have a look among all the movie slots. Play a video slot featuring your favourite movie! Because let's face it, there's nothing better than your own bed.
Movie News
Film Franchise Crossovers: The Blockbuster Study

What happens if Wolverine would meet Captain America? Or Stormtroopers would start working for the Ghostbusters? Let your imagination run free.. We provide the numbers in compatibility and profitability!
Top 5 Movie Slots
Online Live Casinos offer a fine number of movie slots. These particular slots are often very popular. Apart from being fun to play with all your favourite characters, these slots are beautifully made. You can find various bonus features and jackpots in these slots. And if you meet a main character in these slots, chances are a big bonus will follow. We have listed our favourites for you.
Jurassic Park
Jurassic Park one of the biggest and most iconic 90's Blockbusters. The video slot Jurassic Park made by Microgaming is as impressive as seeing this film for the first time. There are 243 ways to win and multiple bonus games. Take your pick in games, all of which are named after dinosaurs. Take advantage of unique features such as extra wilds in free spin games. So plenty to discover!
We think Jurassic Park is one of Microgaming's best video slots. When you play this slot, you will find that it never gets boring. The various Wilds, features and surprising bonuses keep it exciting.
Batman: The Dark Knight Rises
Batman is perhaps everyone's favourite anti-hero. And 'The Dark Knight Rises' everyone's favourite Batman movie. The Dark Knight Rises is a masterpiece by Christopher Nolan. Dark Gotham lends itself perfectly to a video slot and Playtech saw that. The DC Superheroes Grand Jackpot that can run up to €1,500,000.00 is this slot's biggest calling card. In The Dark Knight Rises slot, you'll find a Fire Rises feature with up to 25x multipliers. You can also score wins with 576 ways to win or in the bonus game with three different variants.
We go especially well on the atmosphere of this slot. The music and animations after each spin will make you play on the edge of your seat. With a good bonus game and huge Jackpot, Batman: The Dark Knight Rises should definitely not be missed on this list.
Tomb Raider
Despite the fact that the original Tomb Raider game dates back to '96, both this slot and Lara herself are still very popular. Meanwhile, of course, two incredibly successful films have also been released. In this Microgaming slot, you play with five reels with a max of 15 symbols and paylines. You can enter the winning lines yourself as you wish. There are plenty of extra game features to find and use in this slot plus, of course, a 'Tomb bonus game.'
The gameplay of Tomb Raider is very simple in itself. But all the extra features and bonus game ensure that this video slot does not get boring. It uses incredibly beautiful graphics and exciting background sounds.
Gladiator
That a video slot was created from this film full of Romans and Gladiators makes sense. A beautiful setting for an online slot machine. Which is also packed with extra features like 'Princess Wild, Scatter, Click me' and the bonus game Gladiator Battle.
Gladiator is an entertaining game because of all these extra features. Despite so many extras, the video slot remains very uncluttered and easy enough to play. We love that.
Dracula
This online slot from NetEnt in collaboration with Universal Studios is insanely designed. When you start the game, a video opens first. In it, the storyline of this classic Dracula tale begins. There are 40 win lines from left to right. Furthermore, this slot is completely unique with, for example, the bats feature. There are symbols that change suddenly, free spins features and many more. The aim of the video slot is for Dracula to claim as many victims as possible.
The Dracula Slot is an impressive creation from NetEnt. The graphics are beautiful, sharp and the soundtrack sometimes scares the hell out of you. In a good way, of course. We therefore have no doubt that this slot will maintain its popularity in the years to come.
Movie Promotions
Boxing Day 2022 | Predictions & Bonus

Boxing Day is one of those British traditions that resonates around the globe. Football fans from around the world rejoice in the fact they get to watch Premier League action the same time they're celebrating Christmas with loved ones. Which pretty much feels like the best present they could get, without even having to ask for it!

Valentines Day Casino Bonus

Valentine's Day is around the corner and we are spreading the love by celebrating this day of roses, cards and flirts by bringing you bonuses, free spins and multipliers! So, even if you are spending this Valentine alone, you can join us at our other party called February Fiesta. You are going to love this!

Join us for Awesome April!

The name April comes from the Latin word April is, which means 'to open'. As the blossoms of spring open and the warmth of summer begins, come and OPEN a world of Awesome April rewards at MobileWins.co.uk! Enjoy each of these awesome offers 3X: 25% up to £/$/€500 by depositing £/$/€20 or more with code:…

Continue reading

Join us for Awesome April!
FREQUENTLY
ASKED QUESTIONS
What is the most popular film genre?

Action is currently the most popular film genre. This is mainly due to Marvel and DC franchises. The Avengers and Justice League (and all the spin offs) films are being produced and consumed in large numbers. It also helps that James Bond is in this genre. Star Wars can also be placed in this genre, although you can also file that under Sci-Fi. Sometimes genres get mixed up.

What is the highest 'box office' ever for a film?

The most lucrative film ever is 2009's Avatar. This film earned nearly $3 billion. Avengers Endgame from 2019 takes the second spot, with only $50 million less than Avatar. The third spot is reserved for 2002's Titanic with just over $2 billion in sales. These top three are compiled for the global box office.

Which film won the most Oscars?

There are three films that have won 11 Oscars: Ben-Hur (1959), Titanic (1997) and The Return of the King (2003, third part of The Lord of the Rings trilogy). The film studio with the most Oscars in total is Walt Disney with 22 regular and 4 special Oscars and 59 nominations.

Where are the most films made?

In Bollywood, present-day Mumbai (formerly Bombay), most of the films are made. Historically, most films have been made in Hollywood. Hollywood also makes (and spends) the most money on films.

Who is the highest-earning actor?

The top three highest-earning actors are Keanu Reeves for Matrix Revolutions and Matrix Reloaded ($156 million), Bruce Willis for The Sixth Sense ($100 million). Angelina Jolie is the highest-earning actress when she was credited with $40 million for her 2010 role in Salt.
Other Questions?
CONTACT US
.