Estimated reading time: 4 minutes
Everyone has a favourite film – and whether you're a dedicated DC fan or your favourite flick is Fast & Furious, there's no denying that Hollywood has produced some iconic film franchises over the years.
And with so many blockbuster studios looking to take their successful movie series to the next level, what's the likelihood of two iconic film franchises sharing the silver screen? Could 007 be seen taming dinosaurs in a future Jurassic World, or is Deadpool destined to don a proton pack in Ghostbusters?
Our new Film Franchise Crossover study aims to find out which cinematic series would be best-suited to an onscreen collaboration, based on data on profitability, popularity and format metrics collated across 116 films.
Using findings from IMDb, Rotten Tomatoes, global box office earnings and Twitter – to name a few sources – we reveal what the most feasible film franchise crossover could be…
The Most Compatible Crossovers
And the most likely crossover is – the Marvel Cinematic Universe and X-Men!
This Disney-owned franchise collab may not be a surprise to many, considering a crossover has been teased over the last year, but our research reveals that not only are the two series perfectly matched – the potential earnings from a crossover could total a massive $510,193,334 – that's over half a billion dollars!
Those potential earnings are based on the average global box office earnings across every MCU movie and X-Men flick, meaning the actual earnings – given the building fan anticipation – could be even higher.
The next most-compatible crossover was found to be James Bond and Fast & Furious, which is arguably feasible as the suave superspy is known for the flash vehicles he drives. And if the two titans were to share the screen, the car-laden crossover could see a potential ROI of $530,715,846.50.
And finally – a little left field – the last most-likely film pairing was revealed to be Ghostbusters and Star Wars. If the supernatural and the intergalactic were to collide on screen, box office earnings could equal $365,296,083.50.

Most Compatible Film Franchise Characters
There's more to films than just box office earnings, as storylines and characters are crucial to a film's success. From Batman to Bilbo Baggins, plenty of iconic characters have graced our screens over the years.
So when it comes to crossovers, which characters would shine on screen together if their worlds were to collide? Based on the film-level analysis, it's Jurassic World's animal behaviourist Owen Grady and Marvel's Captain America who would be best-suited to sharing a screen.
Or fans could see 007 James Bond duo with Marvel's Bruce Banner, aka the Hulk, in a spy superhero mashup – and with his scientific expertise, Bruce could be Bond's next Q. Finally, Iron Man and Wolverine reinforce the likelihood of Marvel ft X-Men film as research reveals them as another duo best suited for an onscreen appearance.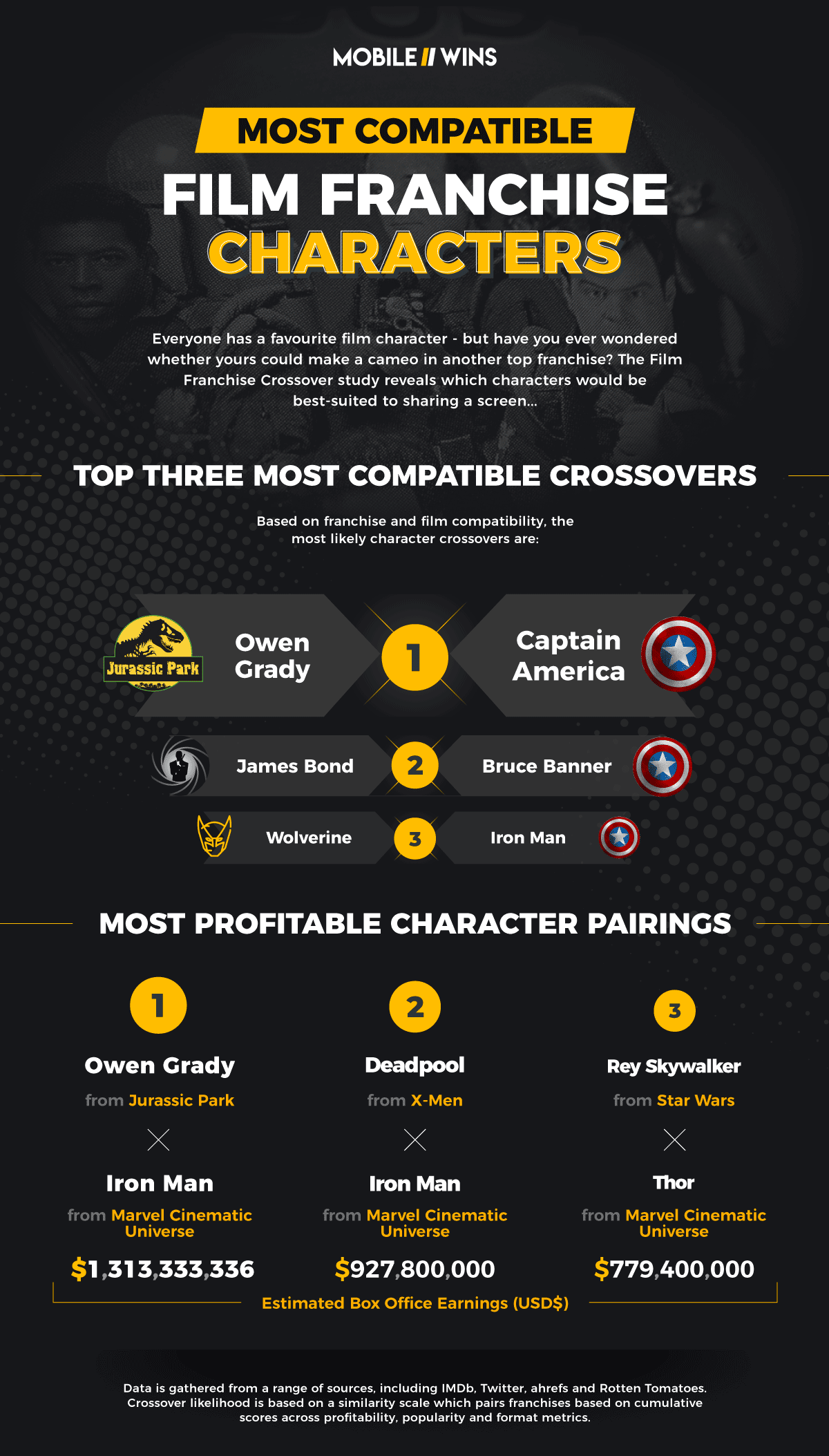 Most Popular Franchise Films
As well as looking at compatible characters and profitable franchise crossovers, the study also reveals which franchise films prove the most popular with fans.
Interestingly, Ghostbusters Afterlife has seen the highest influx of positive Tweets over the last five years than any other franchise film, including Avengers Endgame and The Fellowship of the Ring.
Other franchise flicks that proved popular with Twitter fans were found to be X-Men, Shazam, The Avengers, Man of Steel and Guardians of the Galaxy, while blockbuster movies that didn't stand up to scrutiny on social media included Hobbs & Shaw, The Empire Strikes Back, A View to Kill and X:Men: The Last Stand.
Summary
Only time will tell whether any of these potential crossovers are on the horizon. But there's one thing for sure – when done correctly, the reputational and financial benefits of big-name brands collaborating on screen are incredible.