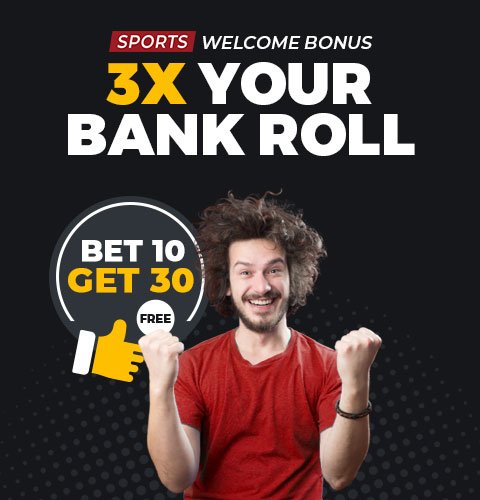 New Players Only. Min £10 qualifying bets, stake not returned. Free bet – one-time stake of £30, min odds 1.5, stake not returned. 1X wager the winnings. Wager from real balance first. Wager calculated on bonus bets only. Max conversion: £200. Valid for 7 Days from receipt. Withdrawal requests void all active/pending bonuses. Excluded Skrill and Neteller deposits.
Full Terms apply
.
The good old sports betting odds boost. A popular little bonus that gives a bet that extra edge to make things just a little more attractive. Just like you might decide to get your groceries at Tesco because they have a cool savings promotion.
The best-known bonuses are, of course, the welcome bonus and free bets. Although quite often the sportsbook welcome bonus is a free bet, but in this case we're referring to the deposit bonus. Another common type of promotion is the Sports betting Odds Boost. On specific events or markets.
Odds Boost as a Bookmaker Bonus
Simply put, a sports betting odds boost gives you a higher payout on a given bet. So if your bet wins, you grab a bigger profit without having to do anything extra for it. Or better yet, had to bet extra.
So much for the basic explanation. Time to dive into the depths of the Odds Boost phenomenon. So that soon you will know exactly what it is and how it works. We'll also tell you how to recognise whether an odds boost is worthwhile. Or if it's a bit of a fugazi. After all, you can only bet your money once.
Sports Betting Odds Boost – What is it?
You can compare an odds boost to a discount. Odds on sale, so to speak. For a certain period, you can bet at more favourable odds. With higher potential winnings. You take the same risk for a higher reward. Or less risk for the same reward. It's just how you look at it.
The reason Mobile Wins might offer an odds boost is to make it more attractive to place a bet. Or introduce you to a different type of betting market (Player A is going to score instead of Team A is going to win). Just keep in mind that an odds boost is always temporary, so when you spot one don't forget to take advantage in time.
What should you look out for?
As with any bookmaker promotion, there are conditions attached to a sports betting odds boost. These vary from bookmaker to bookmaker, but roughly speaking, here's what you might encounter:
Sometimes an odds boost is only offered to new players and not to existing players.
There's usually a cap on how much you can bet at most. That means the odds are improved, but your payout is limited because you can only bet a small amount.
Wins are not always paid out in cash, but in the form of a Free Bet. You can't cash these either. But only use it to place bets.
Sports Betting Odds Boost vs Enhanced Odds
There are several possible variations where odds are 'boosted'. This can be confusing.
Enhanced Odds
With Enhanced Odds, a bookmaker increases the odd on a particular outcome. But in extreme ways. The bet becomes so attractive that you feel you can't really pass it up. And thus get you to place a first bet. Enhanced Odds promotions are often aimed at new players. Mobile Wins likes to provide you with more value on your welcome offer: Get a Free Bet Bonus of £/$/€30.
Example Enhanced Odds
Let's take F1 Grand Prix. The odds of Max Verstappen winning it, for example, are set at 3.50, but the bookmaker sets them at 33.00. 33x your stake instead of 3.5x!
Pretty soon you hear that little voice saying, "Where can I bet?!"
But what if Max does indeed win? Good question. A bookmaker is quite willing to take a risk, but to a certain extent, of course. This is Enhanced Odds come with a maximum bet, often varying between €1 and €5. This limits the possible loss for bookmakers. And what they possibly do loose, of course, is nothing more than marketing budget to recruit new players.
Odds Boost
For the sake of convenience, let's call this the classic Sports Betting Odds Boost. Often these is a combination bet bookmakers create. Or bets on less obvious betting markets. You already feel by the description, this is a promotion that is mainly for existing players. They are daily incentives to encourage players to place a bet again.
Examples Sports Betting Odds Boost
An evening of cup football. Liverpool, Man City and Chelsea are all playing and favourites. Mobile Wins offers to bet on all three winning. By betting on multiple outcomes at once in this way, the odds become higher than normal. That's because the odds are multiplied. An intrinsic boost. Mobile Wins boost is the profit percentage added on top of this.
Basically this is an ACCA, or Accumulator. Only in this case, it's composed ready-made by the bookie. You get an odds boost as a reward for taking more risk. After all, one of the three teams has to perform less and you lose the total bet. Such a combination bet with odds boost is what we call a Combi Boost.
Another example is higher odds on a very specific event. Then you get an increased quote on the bet that Ajax's new striker will score in the first league match of the new season.
Mobile Wins looking to trump the competition. We choose a popular event that will be bet on a lot and offer an odds boost. For example, higher odds on the Liverpool-Man United classic, offering both Liverpool and Man United winning with a higher quote. This way, Mobile Wins increases the chances of players coming to bet with them.
Are Sports Bettings Odds Boosts worth it?
With increased odds, players sometimes tend to throw all reason overboard. And blinded by greed and wishful thinking to throw themselves into the increased odds bet. Obviously, that is not the recommended strategy.
Ask yourself some questions:
Do I know enough about this sport and specific bet to make an informed decision?
Do I realise that an odds boost does not increase my chances of winning – but only the payout if I win?
Would I have entered into this bet without an odds boost?
Do I understand all the terms of this odds boost?
How realistic is the outcome of the bet?
That last point is always important because it is advice that simply applies to any bet. Do your research so that you decide whether to place the bet based on informed analysis. Do you know enough about the teams at stake? Or the player? What is the recent form? Historical H2H? Do key players have an injury? Are they coming back?
Your Own Odds Boost History
We always advise players to keep track of their own bet history. Not only in terms of number of bets, deposits and wins or losses (for the purpose of Responsible Gaming).
But also to gain an understanding of your performance. And whether there are certain bets you win more often with. Or on the contrary, lose. Betting with an Odds Boost can be part of that.
By analysing yourself, you find out where your strengths and weaknesses lie. And you might find out that combination bets are not successful for you. Or that you should stop betting on your own club based on sentiment and wishful thinking. Then again, you also might have the midas touch when it comes to picking players who score. Or which F1 drivers always bring home a points finish.
Frequently Asked Questions about Odds Boost Bonus
You can compare an odds boost to a discount. Odds on sale, so to speak. For a certain period, you can bet at more favourable odds. With higher potential winnings. You take the same risk for a higher reward. Or less risk for the same reward. Depending on how you look at it.
Other Questions?
CONTACT US
.