Estimated reading time: 7 minutes
Kit's that time of year again
In sorting the catwalk from the sale rail, rating or slating, we've devised a smart new way of crowning the all-conquering club kits.
While some of the Premier League kits continue to fly off the shelves with perfect patterning and colour combinations, others have fallen flat and are making an instant beeline for the winter sales.
Is it what it looks like? Who will be donning it? Whether a team won something in it? Whether it encapsulates an emotional and cultural connection through generations of fans? Or, simply, whether it simply made you smile?
Football shirts are a completely subjective entity, the topic of much debate, and it is a notoriously difficult area to evaluate – until now.
By using a combination of metrics; key words, organic traffic to online club shops and Twitter sentiment analysis, MobileWins.co.uk was able to score the Premier League's participating teams on their home, away, third and goalkeeping offerings across the past five seasons.

Something More Profound
Manufacturers and club officials spend many months meticulously planning, researching and designing how a team's shirt should look, and what it should represent. Their very launch is no longer a milestone, but an actual event.
This year (2021) looks set to be a stellar year for football jerseys in the Premier League, with Club Kits Showdown revealing 44% of the top 50 shirts across the past five seasons are to be worn in the 2021-22 campaign. In fact, the top seven are all still being snapped up and worn at a Premier League ground near you.
There is something intangible about the way a polyester shirt with badges stitched on it can make you feel. Amongst the many variables, it has to have a good design, pattern and colour palette, give a nod to a club's history and tradition, and even have the right sponsor (yes, this can really make or break it).
So, let's start at the top and crown the best kit from the past five seasons. Drum roll, please….
Top of the pile was Liverpool's 2021-2022 home kit, which went on sale alongside the club's training and lifestyle ranges on June 3.
The kit boasts a modern look, combining a full red base, which represents power, with an injection of energy in the form of bright crimson, and also features diagonal, bolt pinstripes. It pays homage to when the Reds launched a full red kit for the first time in their history in 1964, and is made of 100% recycled polyester fabric.
Although its Twitter sentiment score is fractionally lower than the next five efforts, cumulative search volume of over 60,000, plus 3.1m organic visits to the club's online store, secure it a much-coveted first place on our list.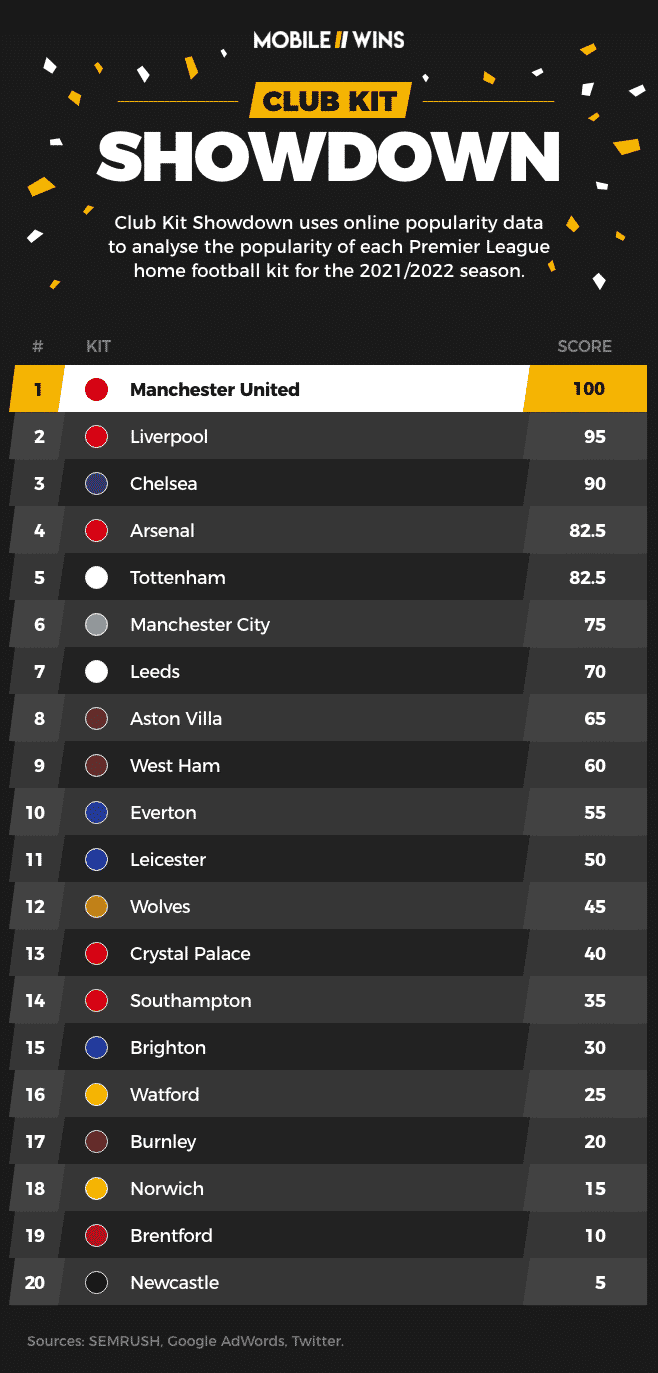 Best of the rest
And it just had to be rivals Manchester United, who they pipped to the post.
The Old Trafford outfit's clean-look Adidas number scored 21.94% better on Twitter sentiment, but ultimately lost out due to lower search volume and lower traffic levels to the United store.
The 1960s inspired home shirt pairs a 'real red' and off white; a simple, classic design, with gold trimmings throughout.
Just five points separated the pair in the end, as red proved to be the most desirable colour, accounting for mammoth 85% of the top 20 kits from the past five seasons, despite only 25% of the top-flight wearing red this season.
Chelsea blue of 2021 clinches third, virtually on a par with Manchester United when it comes to search volume and digital footfall, but a more lukewarm reception on social media drops it into the chasing pack. Anyone getting déjà vu?
One club conspicuous by its absence is the domestically dominant Manchester City. Last year Pep Guardiola's side won their third title in four seasons, but if they are to romp to yet more honours this time around, they will do so in a kit that fails to match their football in setting pulses racing.
The Citizens' home strip for this season comes a disappointing 23rd, behind many of the top six's third kits, goalkeeping kits and offerings from previous seasons. With a search volume of 8,100 from March through August, and online traffic of just over half a million, it sits behind West Ham and one place above Chelsea's third kit in 34th, based on Twitter sentiment alone.
See Where Your Club's Home Kit Ranks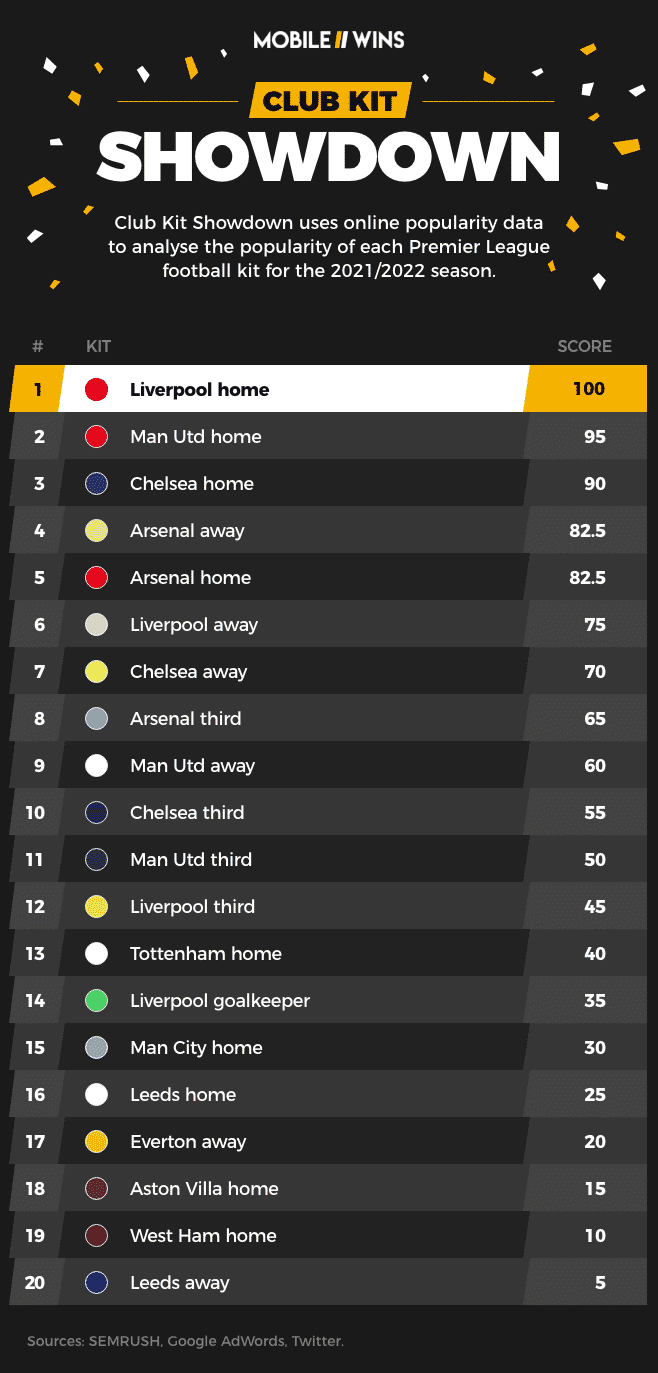 Blue is the colour
An honourable mention must go to Arsenal whose slick merchandise arm, which entirely juxtaposes the team's on-field prowess in recent years, sees all three of their current playing strips make the top 10 for the 2021-22 season. And better still, they account for six of the top 20 across the past five seasons.
From the top 50 kits of 540 analysed, it is Adidas who manufacture the lion's share, settling the Adidas versus Nike battle, for this year at least! Adidas pipped retail giant Nike to the post, making 40% of the kits, just 2% more than its competitor.
Adidas stars in the top 50 included the likes of Manchester United, Arsenal and Leeds, with Manchester United's new home kit proving the most popular Adidas kit.
Other manufacturers who just about scratched the surface included Hummel and Puma, both making 6% of kits, Kappa and New Balance with 4%, and finally Umbro at 2%, represented by West Ham's solitary entry in the top 50.
A colour analysis of the top 50 was also conducted to find out whether red or blue takes the title, and it's… Blue, by quite a margin! Blue kits made up 26% of the top 50, with both red and/or white in second place with 18% each.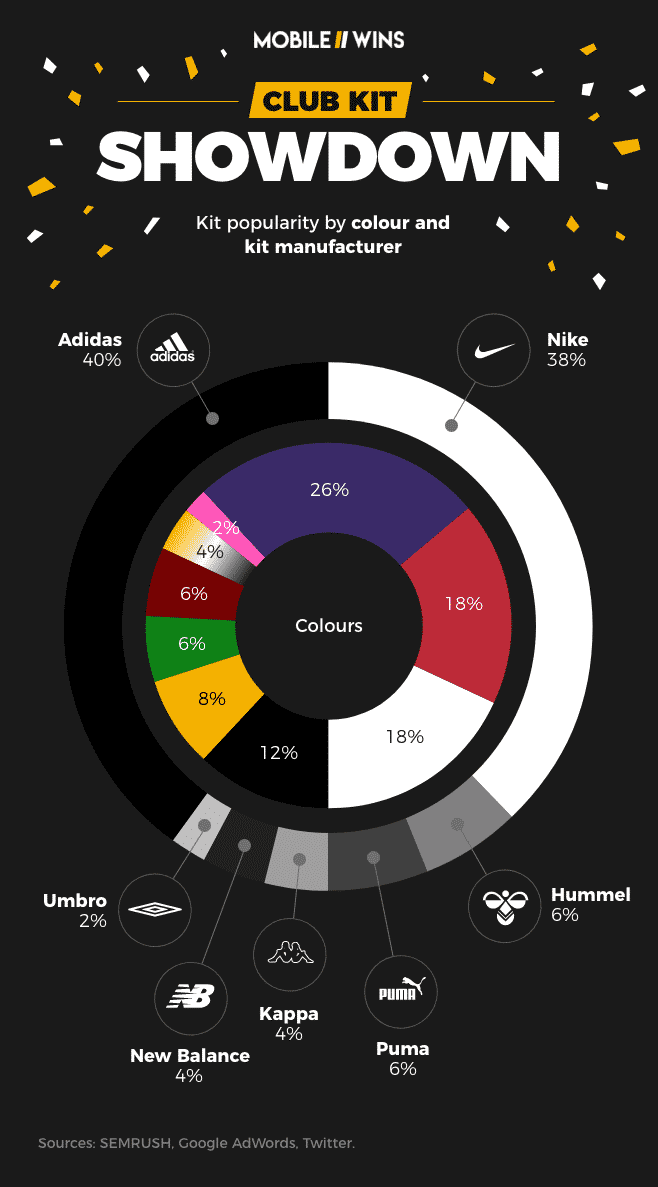 Headed For the Sale Rail
Scraping the bottom of the barrel, some kits have left fans cold with quirky design choices, garish colours and sponsorship chaos.
The worst kit on our radar was Burnley's 2017 third kit – a hastily assembled light blue PUMA number, adorned by a duo of the most garish looking sponsorship logos you would find.
When it comes to home shirts – supposedly treasured by fans and of huge sentimental value – it is West Brom which claims the unenviable tag of creators of the worst home kit.
This particularly uninspiring ensemble featured the traditional blue and white stripes, as well as the logo of Chinese landscaping company Palm, and retailed for £50.
When it comes to away kits, it is the 2017 edition that Swansea fans hoped would never make the return journey. Predominantly red, but also green and white, it was apparently inspired by the club's Welsh heritage. It is just a shame that the kit itself inspired little else, with The Swans migrating back to life in the Championship.
And in truth, that's how football kits are measured; in the success, or otherwise, of the team playing in them. Defining what it is that makes a kit a hit, or a miss, is nigh on impossible, but our research tells us that gauging desirability, and commercial appeal, is achievable in new Premier League Kits of the future.