The Highest Football Transfer Fees
There has never been more money in football, with world record highest transfer fees broken every year, thanks to the billions splashed on new talent in the English Premier League.
Football clubs make millions, spend millions and often plough huge sums of money back into the club, chasing often elusive success.
That's why Mobile Wins Sports has re-mastered the English top-flight's most lucrative and infamous transfers, assessing who would be the most expensive in today's market, projected estimated values in 2050, and has rewound the clock to look at hypothetical fees at the turn of the century.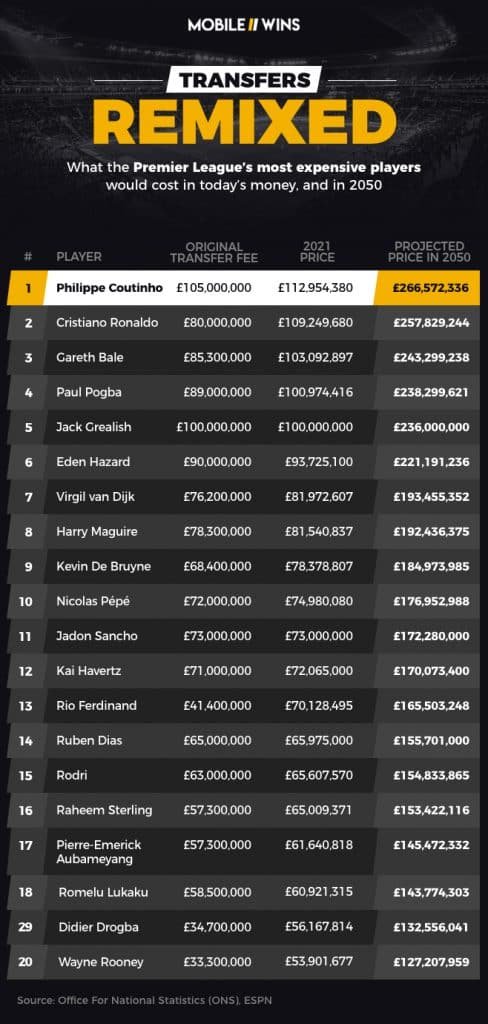 Money on my mind
Money is everywhere in football. On the shirts, in the stadium, in the heads of the players, and in the hands of the owners. And it has become increasingly common to turn a blind eye to the highest football transfer fees, so long as the club are afforded the opportunity to appease their loyal followers.
In fact, Manchester City recently broke the British transfer record for the first time since 2008 and for only the second time in their history – a mammoth £100 million splashed on Aston Villa's best player, the relentlessly inventive Jack Grealish.
Whatever your feelings, it is just desserts for some consistently fine performances and much of the outrage that has ensued is unwarranted. People have short memories and blinkered vision when it comes to the comings and goings at their beloved clubs.
Manchester money
In part the spiral of football transfer fees is fuelled by clubs just like City, and their near neighbours Manchester United, who themselves have broken the transfer record on 10 separate occasions.
Manchester City may still smash their own record this summer with the pending acquisition of Harry Kane, and the fact they can do so by spending less than Chelsea did the previous summer should not be overlooked.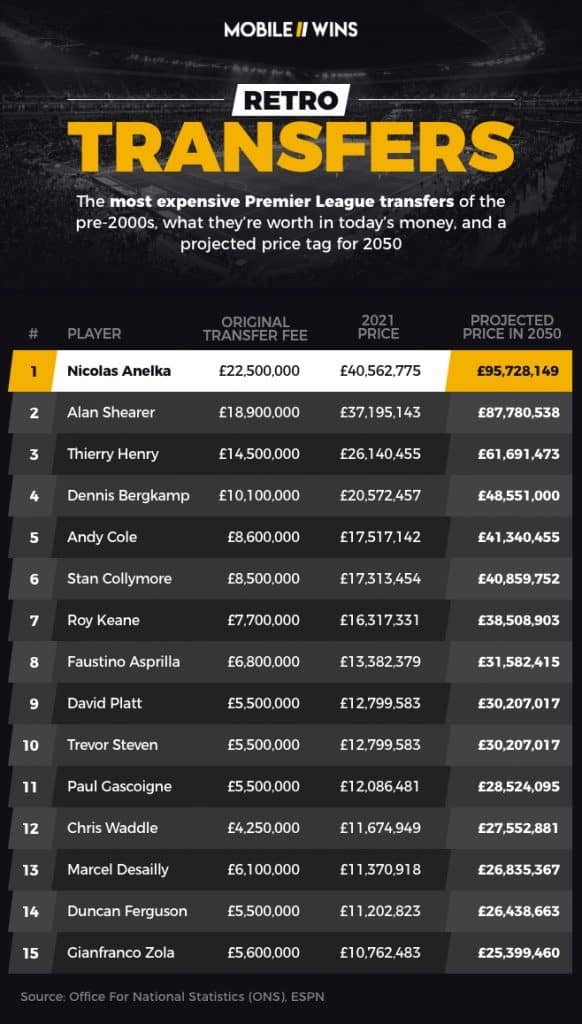 That was then…
Take Sam Omerod, Manchester City manager in 1900, for example. He would have paid £759,957 for British record signing Grealish in 1900, while Jadon Sancho would have cost United just over half a million. By our reckoning, in 2050 City and United would have to spend £236 and £172 million respectively to land their men.
Grealish's reported £369,231-a-week would have earned him £168,020 at the start of the Premier League.
While in the present day the Manchester club's combined spend on the duo would purchase 54 properties in the lavish London suburb of Knightsbridge, in 1900 they could have secured themselves a small town, or 4,966 average capital dwellings.
Better value for money
Grealish's record-breaking switch to the Etihad Stadium would even have bankrolled moves for the first, and second, all-time Premier League goalscorers in both Shearer and Rooney, at today's prices.
Even more startling is the fact you would see around £9 million in change for the pair, and both were world record signings at the time of their respective big money moves.
Shearer, who went for £18,900,000 when joining Newcastle from Blackburn in the summer of 1996, is worth £37.19 million in today's market, good enough for just 36th in our list of the most expensive transfers of the Premier League era.
And if you were happy landing a man who bagged 260 top-flight goals, then Wayne Rooney, who in 2004 also became the world's most expensive player, would be a sizable cherry on top of the cake. With another 208 goals secured (via Rooney) the pair would set you back a combined £91 million in 2021, and in excess of £214 million by the middle of the century.
For added context, for every Grealish in 2021 you could have three Thierry Henrys or four-and-a-half Dennis Bergkamps.
Instead of Cristiano Ronaldo, worth just over £109 million in today's prices, and based on his £80 million to Real Madrid in 2009, you could have had 31 Eric Cantonas or 12 Gary Linekers.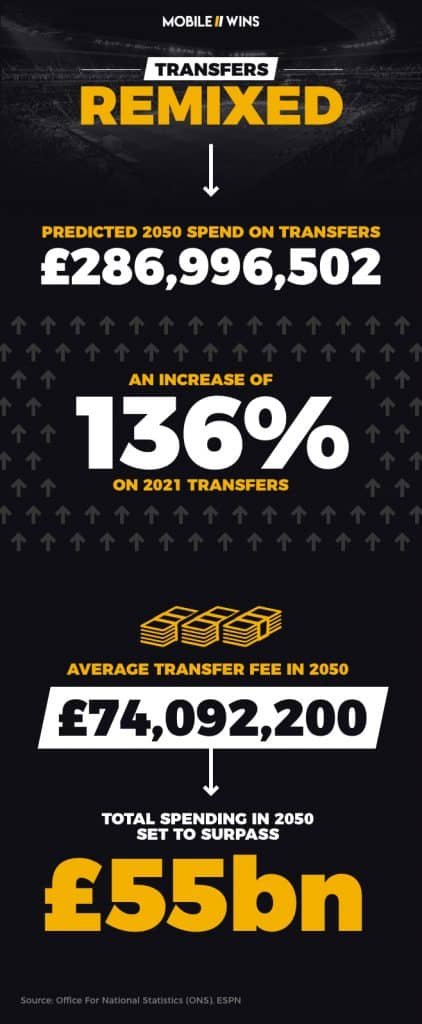 One small step for Groves
According to the same research, the average outlay of a Premier League club will be £286,996,502 in 2050, an increase of 135.99%, while the average fee forked out will be £74,092,200. So by 2050, the majority of clubs could comfortably afford their own Sancho.
Meanwhile, the total cumulative football transfer fees of top-flight clubs, since 1900, will likely surpass £55bn at the same point.
Since 1992, there has been a 2529.78% increase in the amount spent by the biggest spending club, and similarly a 2150% increase in the most expensive player signed by the biggest spending club.
Brazilian midfielder Philippe Coutinho, widely regarded as the best bit of business in the Premier League era with Liverpool paying just £8.7million in 2013, is the most expensive player in today's market. His £105 million transfer to Barcelona in 2018 is equivalent to £112,954,380 in 2021, and a colossal £266,572,336 in 2050.
Cristiano Ronaldo, Gareth Bale, Paul Pogba, Grealish and Eden Hazard make up the top six, and the only transfers that would bank their selling clubs in excess of £200 million in 2050.
That's light years away from the first three-digit fee in 1893, when Scottish forward Willie Groves moved from West Brom to Aston Villa for £100. One small step for Groves, one giant leap for football transfers. That's just £13,181 in today's money! But, as they say, from little acorns grow big oak trees.
All Time Classics
Fast forward 85 years and Brian Clough's First Division-winning Nottingham Forest were launching a £1.15m bid to secure the services of Trevor Francis, English football's first million pound player.
But as the curtain lifts on the 30th Premier League season, we did not discount some of the all-time classic moves.
Nicholas Anelka's switch to Real Madrid in 1999 leads the way in terms of the costliest pre-2000 transfers. His fee of £40,562,775 in today's market puts him 30th overall, ahead of record Premier League goal-scorer Shearer, and Henry, Bergkamp and Andy Cole.
Gareth Southgate, who moved from Crystal Palace to Aston Villa in 1995, would have cost less than £70,000 in 1900, but fast forward 150 years and the England manager would set you back £16.34m. Gary Lineker would have cost Barcelona £21,102,514 if their attempt to prise him from Everton had come 36 years later.